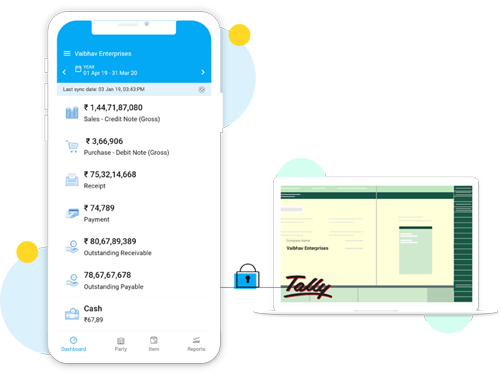 Run Tally on Mobile - Best Tally Mobile App in India
We deal in the Most successfully running Mobile App in India to access the data of your Tally Accounting Software through your Mobile or Tablet or any other such device from anywhere in the world. This mobile application syncs securely with Tally, allowing its user the access to business data from TALLY ERP 9 or TALLY PRIME Software anytime / anywhere, even when Tally offline. Biz Analyst can be used on both iPhone or Android platform and is being used by over 70,000 businesses.
This Mobile App was developed to provide its user the access to their Tally ERP 9 data anytime anywhere, even when tally is offline. Along with this Biz Analyst evolved with time adding many features that made it a valuable business tool. With over 70,000 active users, Biz Analyst is India's most trusted Tally on mobile. Along with Tally data you can view multiple business reports, key business figures, graphs etc and make data-driven business decisions in or outside your office. You can set reminders to follow up with your customer, manage your sales team's visits, increase work productivity, and improve your profit margins. With 7 levels of security for data protection, this app is suitable for business owners, SMEs, accountants, and senior management of the organization.
If want to have a Free Demo of this App, You can call us on - 9336054417, 7080430202

No dependency on accountant
Track your business anytime, anywhere
Make smart data driven decisions.
Send Outstanding Reminders and Get Paid faster
Multiple reminders at one click
Share payment reminders via email, whatsapp SMS with few taps
Upto 50% reduction in payment delays
Avoid poor cash flow because of delays in payments
Data Entry from App
Create Sales Invoices, Sales Orders and Receipts from the app
Create Purchase Invoices, Purchase Orders and Payments
Share instantly via Whatsapp, Email, SMS and more
Save time & reduce errors
Increase sales team productivity
Outstanding followup with their customers
Create sales orders, receipts while visiting customer
Geo-tagged Check In/out report of customer visits
Add comments of each customer visit
Easily Give/remove Restricted access to the sales team
---
If want to have a Free Demo of this App, You can call us on -
9336054417, 7080430202
You can also download the app from below link -